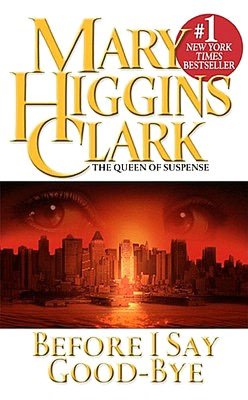 Do you know anyone who is psychic? Do you think anyone is?
Right now I am listening to Mary Higgins Clark's bestseller,
Before I Say Goodbye,
on tape. Nell, the main character in the story, loses her husband the very day after they have a big fight. Her sorrow and grief is compounded with guilt, which leads her to a medium who communicates with "the dead". It brings Nell much comfort when her husband, Adam, relays that he is fine and wants her to go on with her life guilt-free. Whew! Good man.
But in real life, do
you
believe? Have you had any quirky things happen that could lead you to believe, or at least wonder, or maybe to know beyond a shadow of a doubt, that those who go before us send messages back to us?
I would guess that most of us believe that life is eternal, that death is nothing to dread in itself, and that the best is yet to come. That doesn't lessen the sadness we feel when loved ones leave this plane. We are still here. They are not. We cannot hug them and be hugged back. We cannot look upon their face. We miss them.
And, yet, maybe their energy and their love is still here for us. Maybe there
are
those among us who
can
communicate and share their messages with us.
Tomorrow I'll be taking a little trip in my car and I'll find out what happens next in this mystery. I'll eventually know "who dun it" and why and all the twists and turns. But I won't find out if Adam's message to Nell is really from him or merely comfort bestowed upon her by the psychic.
What do
I think
? I think it's really Adam. I think it's real. What do you think?